OJ-Air2FANIO21No valves that stick
The OJ Air2 Fan IO 21 is specially designed for mounting in the fan section in an air handling unit.
All functions for controlling heating/cooling valves, dampers, fan, filter monitoring and temperature measurement are built-in.
With the OJ-Air2 Fan IO 21, all components are connected up with QuickPlug™ Modbus, including dampers and valves. The risk of installation errors is reduced significantly, and operating reliability is increased.
No valves that stick
The OJ-Air2Master monitors all Direct Modbus valves in the system and immediately triggers an alarm if a valve does not attain the desired position. The risk of overconsumption of heating and cooling is reduced, and operating disruptions can be handled efficiently.
No clogged dampers
All Direct Modbus dampers in the system are monitored, and the person responsible for operation can identify extremely quickly where service is needed. Is there a risk of snow in the ducts with ensuing moisture damage due to a defective discharge damper? Or does the energy consumption rise sharply due to a defective bypass damper in the counterflow heat exchanger?
Simple installation
The OJ-Air2FanIO21 is connected to the OJ-Air2Master with QuickPlug™ Modbus, eliminating time-consuming installation faults and troubleshooting. The built-in connectors are used both for Direct Modbus actuators and QuickPlug™ Modbus products from OJ Electronics.
Direct Modbus dampers
Direct Modbus valves
Two pressure measurements
Two temperature measurements
Controls one fan
QuickPlug™ installation
Product Sheets
Product Sheet, OJ-Air2FanIO21, Danish


File type/size:

PDF ( 229,01 kB )
Product Sheet, OJ-Air2FanIO21, English


File type/size:

PDF ( 230,65 kB )
Brochures
Brochure, OJ Air2, English


File type/size:

PDF ( 3,99 MB )
Product Catalogue, HVAC Controls and Drives, 2023, English


File type/size:

PDF ( 2,47 MB )
Instructions
Instructions, OJ-Air2FanIO21 (EN, DE, FR, SV, NO, DA)


File type/size:

PDF ( 1,15 MB )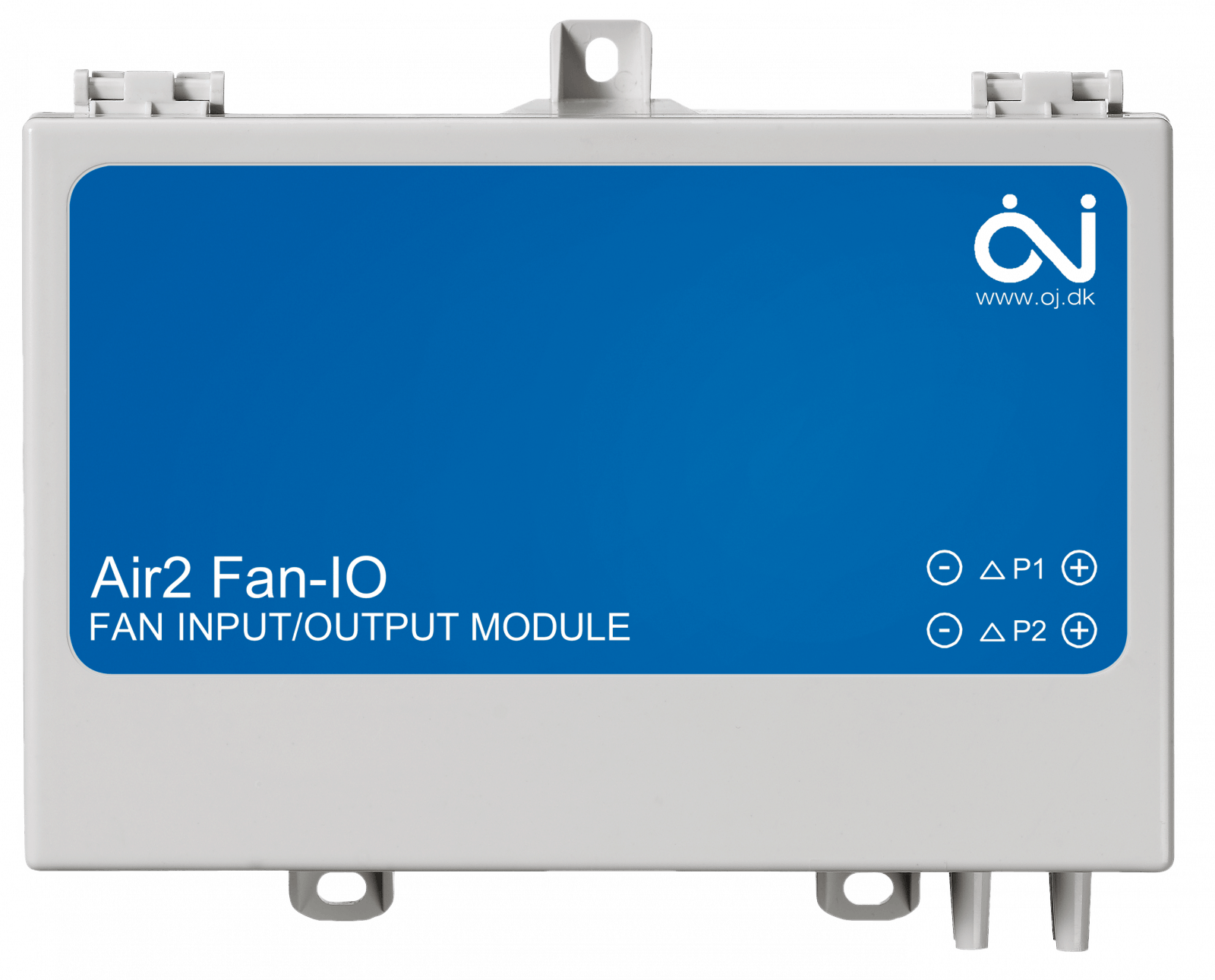 OJ Air2 FANIO21Customised
for you
We deliver high-quality product platforms as the perfect foundation for your customisation and differentiation. Having unique, customised solutions enables you to set yourself apart in the market on the exact parameters that are important to you and your customers.