OJ Air2 MasterThe intelligent HVAC controller with QuickPlug™ Modbus technology
OJ Air2 Master is a custom made and flexible controller, specifically designed for ventilation systems. It has a built-in web server with intelligent interface and a simple and attractive user interface, which allows optimal energy consumption control. OJ Air2 Master is financially attractive in association with complex ventilation units. It is a simple and reliable automation unit, which has been developed based on specialised technical competence and application knowledge.
Specifically designed for ventilation systems
Built-in web server with simple and intelligent interface
Simple and reliable
Product Sheets
Product Sheet, OJ-Air2Master, English


File type/size:

PDF ( 361,17 kB )
Brochures
Brochure, OJ Air2, English


File type/size:

PDF ( 3,99 MB )
Product Catalogue, HVAC Controls and Drives, 2023, English


File type/size:

PDF ( 2,47 MB )
Instructions
Instructions, OJ-Air2-Master (EN, DE, FR, SV, NO, DA)


File type/size:

PDF ( 734,44 kB )
Protocols
BTL_Cert_30207_OJElectron_OJ-Air2.pdf


File type/size:

PDF ( 1,11 MB )
67679T_SW652_Modbus_BACnet.xlsx


File type/size:

- ( 1,52 MB )
BACnet PICS 4.04, OJ-Air2-Master, English


File type/size:

PDF ( 97,93 kB )
OJ-Air2_EDE_SW_671_EDE.csv


File type/size:

- ( 178,96 kB )
Environmental Declarations
Declaration on Environment and Materials, OJ-Air2Master, 2023-08


File type/size:

PDF ( 171,36 kB )
Which pin is A and B in an RJ14 plug?
Reply
Why do I get these warnings?
Reply
Checklist
Check Max. air volume (could be set to low)

Check fan speed. If fan speed is 100% - check max fan speed.
How to connect a 9-pol sub-D connector to the RJ14 in the OJ Air2 system?
Reply
How to connect two 24VAC transformers with an OJ Air2 Master?
Reply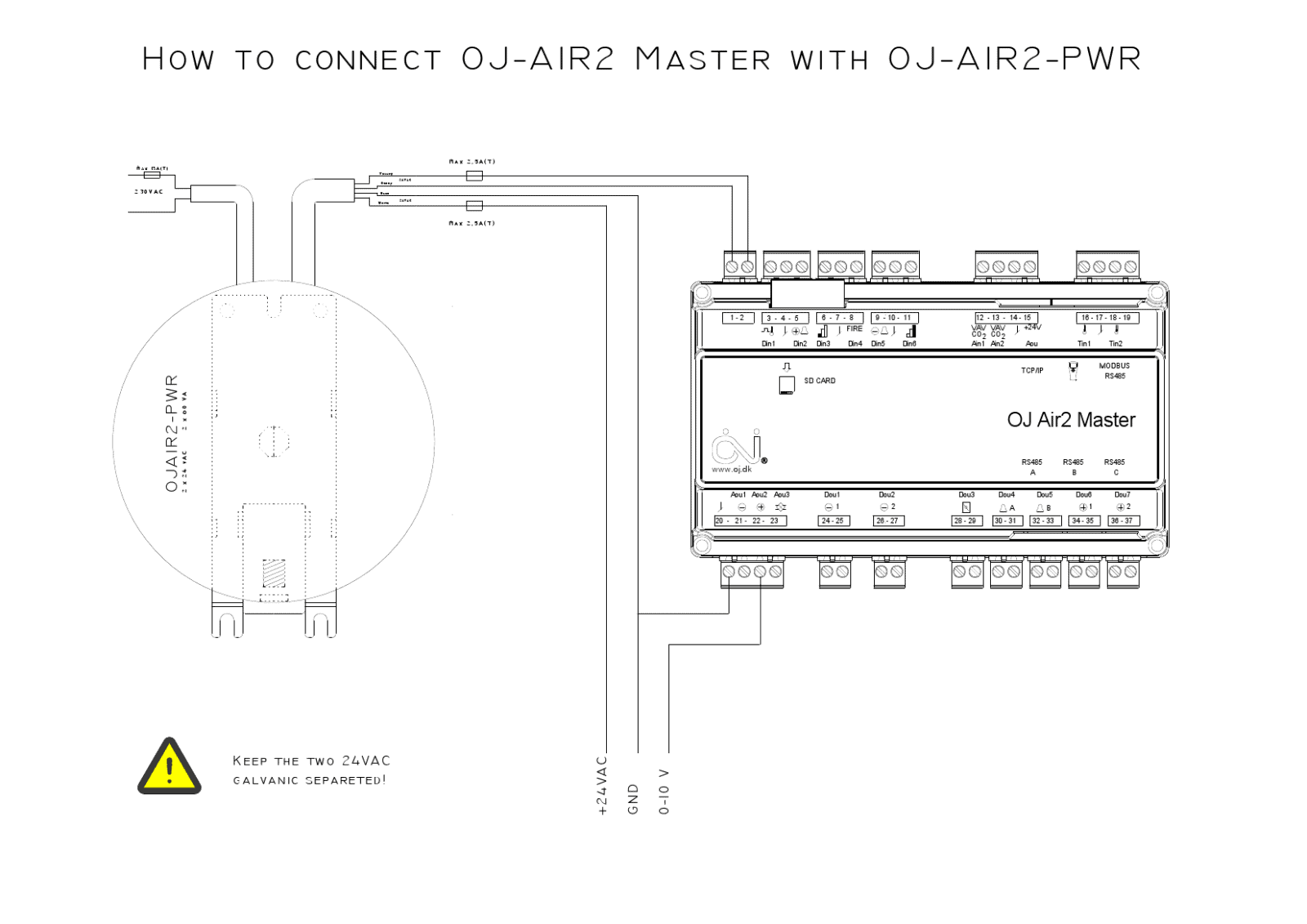 How to setup the OJ Air2 to send e-mail notification in caseo of Error?
Reply
How to cure Alarm 71 and Alarm 73 on the OJ Air2 controller?
Reply
Checklist
Check rotation direction of fan
Check max Hz
Check max motor current
Check v/f characteristics
Check filter pressure
Check damper position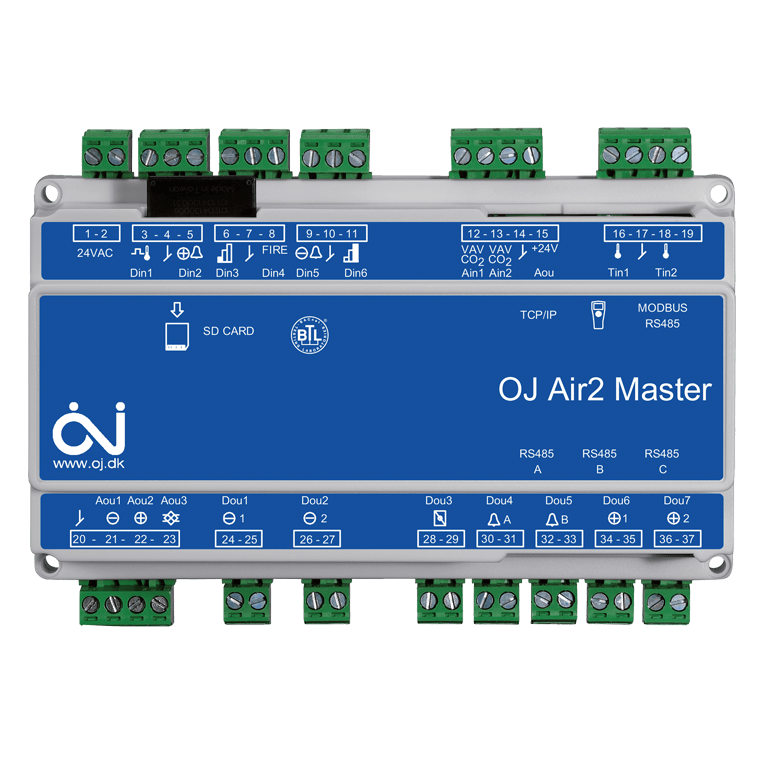 OJ Air2 MasterCustomised
for you
We deliver high-quality product platforms as the perfect foundation for your customisation and differentiation. Having unique, customised solutions enables you to set yourself apart in the market on the exact parameters that are important to you and your customers.