OJ-VCH-HMI3-6132Ideal for replacing single fans with several
Created with energy renovation in mind
Specifically designed for energy renovation projects, this compact, user-friendly unit offers costeffective control for your ventilation system. You also get control and an intuitive touch-screen interface built into a single product.
Ideal for replacing single fans with several
The controller is ideal for retrofit projects where you replace a single, big fan unit with several smaller fans and need a common controlling device. Capable of controlling up to 32 drives/fans, the OJ-VCH makes it easy for you to create and install more energy-efficient systems for your clients.
Powered through the drive
The OJ-VCH ventilation controller is powered via the connected drive, receiving +24V DC through the supplied Modbus RJ12 cable. If you expand your system with an OJ Electronic pressure transmitter, which is also supplied with power from the connected drive. Setting up the pressure transmitter is easily done via the touchscreen menu.
The functions you need
Simple, compact and easy to install, the OJ-VCH ventilation controller includes all the features required by most retrofit projects.

Fan speed options
You can control the speed of the fans directly – or regulate fan speeds depending on the flow or pressure in the ventilation system.
Control via display or signal
The requested speed, pressure or flow can either be controlled directly from the user-friendly 3.5" touch display or via a 0-10V analogue signal.
Digital input – start/stop
The controller comes with a digital input that can be configured as a start/stop signal.
Alarm relay option
If you want alarms in the event of system faults, a relay option module can be placed in just one of the connected drives and selected from the onscreen menu as a common system Alarm relay.
Ideal for energy renovation

&

retrofit projects
Controls up to 32 drives
Intuitive menus (English

&

German)
Modbus communication
3.5" colour touch screen
Product Sheets
Product Sheet, OJ-VCH-HMI3-6132, English


File type/size:

PDF ( 505,79 kB )
Product Sheet, OJ-VCH-HMI3-6132, German


File type/size:

PDF ( 641,02 kB )
Brochures
Product Catalogue, HVAC Controls and Drives, 2023, English


File type/size:

PDF ( 2,47 MB )
Instructions
Instructions, OJ-VCH-HMI3, English


File type/size:

PDF ( 1,34 MB )
Instructions, OJ-VCH-HMI3, German


File type/size:

PDF ( 1,35 MB )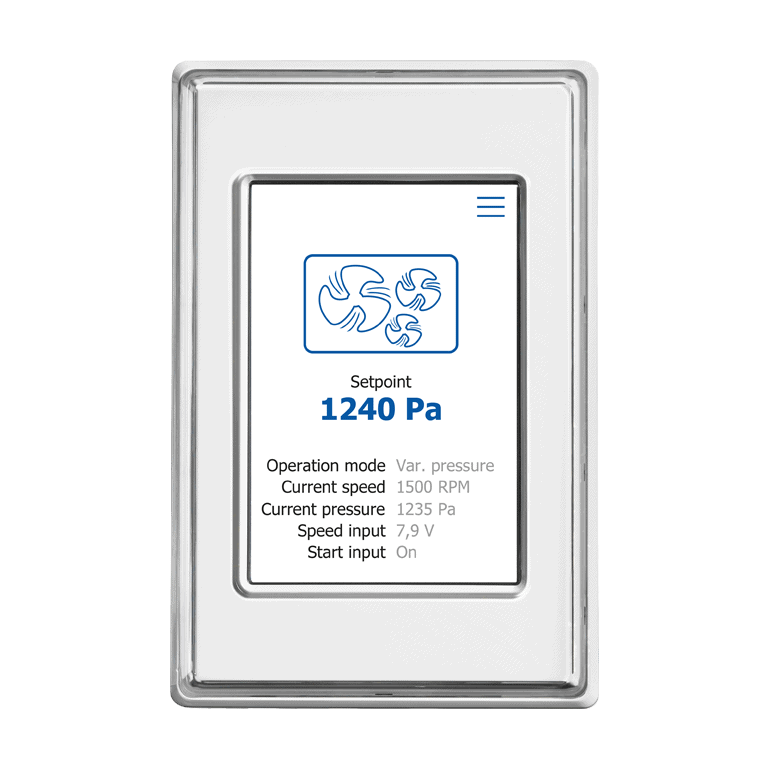 OJ-VCH-HMI3-6132Customised
for you
We deliver high-quality product platforms as the perfect foundation for your customisation and differentiation. Having unique, customised solutions enables you to set yourself apart in the market on the exact parameters that are important to you and your customers.