UWG5®
WiFi LED Touch Thermostat
WiFi LED touch thermostat for electric underfloor heating with connectivity, sleek design, and intuitive control for easy installation.
App connected
GFCI
Programmable
Smart home
Touch
Voice control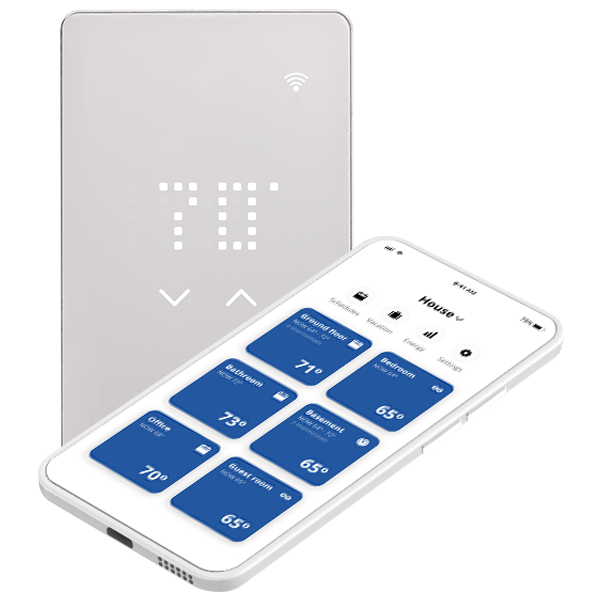 UWG5®Sophisticated design meets easy-to-use technology
With OJ Microline® WiFi LED touch thermostats, users can remotely adjust and monitor their thermostats. The thermostats can be accessed locally through Bluetooth® and everywhere when connected to the OJ cloud service through WiFi.
Users can control the thermostat using just their voice with Amazon Alexa or Google Assistant-enabled devices.

Google and Google Home are trademarks of Google LLC. Google Assistant is not available in certain languages and countries. Amazon is trademark of Amazon.com Inc. or its affiliates.
Smart installation via app
An intelligent WiFi thermostat makes installation, setting, and operation a lot easier. The OJ Microline app guides the installer and end-user through the few necessary steps to ensure the correct installation and operation of the thermostat. Can be set up with without app.
Security
OJ Microline® UWG5 thermostats transmits data securely and encrypted via TLS 1.3, the latest state-of-the-art encryption technology. This allows faster and more secure connections.
Key features are
Cloud-connected WiFi thermostat
Direct local control through Bluetooth®
Voice control compatible with Amazon Alexa and with Google Assistant-enabled devices
Display with LED light. During use, light intensity is increased. When not operating, the light intensity will be dimmed or off
Capacitive touch allows direct control on thermostat
Simple on-thermostat control. Adjust set-point, change operation mode, turn on/off
GFCI protected, including a test button
Readouts of temperature, set point, time, heating status, errors, and WiFi status
Schedules: Up to 10 different schedules, schedule overrides (manual mode, hold for X hours, vacation mode, frost protection and eco mode)
Regionalization (language and unit, time and date)
Adaptive function, open window function, application type, sensor adaption, user lock, and calibration
Suitable for tile, laminate, and wooden floors
Product Sheets
Product Sheet, UWG5 (EN-US)


File type/size:

PDF ( 301,68 kB )
User Manuals
User Manual, UWG5 (EN)


File type/size:

PDF ( 4,21 MB )
User Manual, UWG5 (ES)


File type/size:

PDF ( 4,26 MB )
User Manual, UWG5 (FR)


File type/size:

PDF ( 4,28 MB )
Instructions
Quick Guide, UWG5 (EN-ES)


File type/size:

PDF ( 612,68 kB )
Quick Guide, UWG5 (EN-FR)


File type/size:

PDF ( 608,69 kB )
Unboxing the UWG5 thermostat
How to install the UWG5 thermostat
How to connect a power module to UWG5 thermostat
How to setup the UWG5 thermostat via the app
How to setup the UWG5 thermostat via the thermostat
Daily use of UWG5 thermostat
Reset UWG5 thermostat to factory settings via app
Reset UWG5 thermostat to factory settings via the thermostat
How to pair the UWG5 thermostat with Bluetooth
How to add a second UWG5 thermostat to my account via WiFi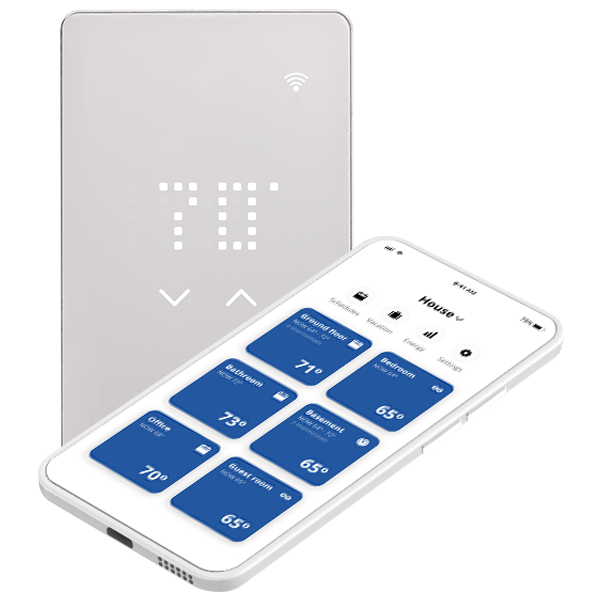 UWG5®Customised
for you
We deliver high-quality product platforms as the perfect foundation for your customisation and differentiation. Having unique, customised solutions enables you to set yourself apart in the market on the exact parameters that are important to you and your customers.