Putting the finishing touch on the OJ GreenZone® control system
The latest addition to the range reflects the philosophy of making installation and operation simpler while ensuring better control than ever: The OJ RPT-20T room panel is an attractive, touchscreen-based graphical user interface that gives users straightforward and intuitive control of ventilation and temperature within parameters set by you. The 2" colour screen uses familiar symbols that are instantly recognised by users, and installation is easily handled via a QuickPlug® Modbus connection.
Control in the palm of your hand
Thanks to WiFi connectivity, all modules can be operated via your smartphone, tablet or laptop/PC.
Locate zone modules with your smartphone
A beeper function makes it easy for service staff to locate zone modules hidden behind ceiling tiles with perfect accuracy – which greatly reduces the time spent on maintenance.
Pre-installed software – and easy updating
The software controlling the zone modules is stored in the Master unit. All modules in the network can be easily updated by replacing the SD memory card.
Touch-screen room panels
The full-colour touch-screen room panels let users control the fan speed and temperature in their room, allowing them to their personal comfort within the overall parameters of your OJ GreenZone® system.
Fast installation saves installation time and costs
Just plug

&

play
Installation is a simple matter of plug

&

play: the combination of Modbus QuickPlug® and built-in software ensures that OJ GreenZone® saves valuable installation time
Simple configuration
The OJ GreenZone® configures itself automatically: the Master automatically assigns addresses to each zone module. This eliminates the need for complicated DIP switches – as well as the risk of blocking the network due to random address conflicts.
No programming necessary
Installers simply plug in the components and fine-tune the settings. Each room or zone can be configured to ensure ideal climate and operation – and a single OJ GreenZone® solution can handle up to 125 individual zones.
Watch this video to see how easy it is to programme a VAV damper, connect a sensor or connect OJ Zone modules in series.
New touch-screen
room panel
OJ GreenZone® systems give you complete control of the ventilation in up to 125 rooms or zones. Now, you can share a bit of that control with the people inside the building. The OJ RPT-20T – our new touch-screen room panels for the OJ GreenZone® control system – lets users control the ventilation and temperature in their rooms, ensuring optimum comfort while still conserving energy.
The touch-screen room panel is ideal for office settings, schools, shopping malls, airports, hotels, hospitals, etc.Product features
User-friendly, intuitive operation
2" colour touchscreen
Built-in temperature sensor
Programmable daily/weekly cycles
Up to 65% energy savings
Optimised for efficient performance:
Enhanced AHU control and optimised temperature, air and water flow bring energy savings of up to 65%.
Demand-controlled fan speed:
In most systems, fans run at full speed or not at all, resulting in a HVAC system that is either under- or over-ventilating. With  the OJ GreenZone® control, the damper-optimized DCV technology ensures the fan operation automatically reflects each room's changing uses and needs, which greatly reduces energy use and costs.
Summer / winter compensation:
With summer/winter compensation, OJ GreenZone® adjusts temperature setpoints in accordance with the conditions outside. No programming is necessary: simply connect an outdoor temperature sensor to the OJ Zone Master unit.
Independent report confirms OJ GreenZone® savings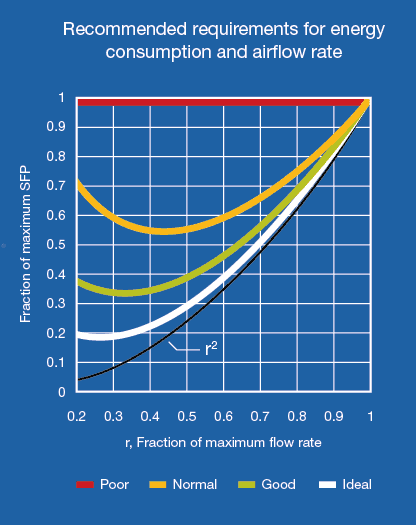 The efficiency of the OJ GreenZone® approach is confirmed by independent research. A recent guidebook from Norwegian research institute Sintef explains the theory – and the OJ GreenZone® system belongs firmly in the 'Good' category.
Use of Specific Fan Power (SFP)
It is important to clearly specify requirements in terms of SFP in order to get an energy efficient DCV system. DCV systems are not necessarily energy efficient. Figure 2.1 shows the variation of SFP according to the airflow rate for an ideal, good, normal and poor ventilation system, respectively (Schild and Mysen, 2009). The differences lie in the fact that some systems regulate the airflow rate by using unnecessary throttling.*1
View the full Sintef report here.
*1 Mads Mysen, Peter Schild, Axel Cablé: Demand-controlled ventilation – requirements and commissioning, Sintef, 2014
Case Story
Learn more about how Hotel Bella Italia, a new boutique hotel in Sønderborg, Denmark, uses an OJ GreenZone® solution to manage heating and ventilation in the rooms, ensuring that guests get exactly the comfort they need – and that the hotel itself enjoys greatly reduced energy consumption. Get access to the Hotel Bella Italia case story here.