HVACRotor Drives
Drives for Rotary Heat Exchangers
We offer a wide product range designed with simplicity and efficiency in mind, helping you to find drives that fit any rotary heat exchanger system. You get a reliable solution combining RS-485 as well as analogue technology in a flexible design. The DRHX drives are easy to install and bring your system efficiency (drive & motor) up to 65%
We offer both customer-specified and standard products. Free choice of vertical or horizontal installation.
OJ ElectronicsDouble-patented drive solution
The DRHX drives have a self-cooling design, eliminating the need for additional cooling, such as fans. The gear-free technology ensures accurate control throughout a broader range of speeds. Our patented sensorless software monitors the rotation of the rotor, which means that no physical/optical rotor guard is required. This gives you a simple, efficient solution, and with fewer components, you also get an easier installation.
RotorField oriented sensor­less motor control
Combining a high-torque stepper motor with a closed-loop sensorless control gives you more accurate, energy-efficient control. The drive regulates the current to the exact level required to achieve the right speed and torque. Patent granted.
RotorRotor Constant Speed
OJ DRHX Constant Speed lets you master the new technology of a stepper motor in the most basic way. The setting is either on or off. You'll typically use these drives in simple cooling/ventilation systems. When on, the motor will run on one of four predefined speeds. It is a cost-efficient solution when you do not need a demand-driven application.
The drives cover from 1 Nm to 8 Nm.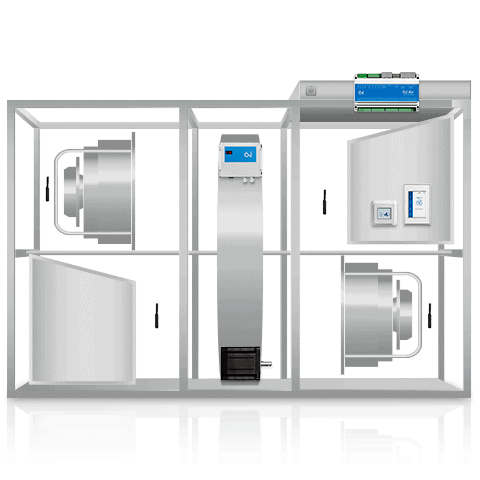 RotorRotor with Modbus Control
With RS-485 control, the drive can both send and receive information. This provides you with advanced control, allowing the recovery of energy from the air to be adjusted as required.
This solution is often used in an AHU system. The user interface provides visual information to the user via et triple colour LED
Covers from 1 Nm to 8 Nm.
RotorRotor with Modbus
&

Analogue Control

Modbus and 0-10V control leave you with all options of advanced control and optimization of energy consumption and air quality. A 3×7 segment display provides user information of actual performance and error messages.

This solution is perfect for advanced AHU systems and refurbishment.

Covers from 1 Nm to 14 Nm